This week I introduced Lesley to the Du Puis Management Area. The entrance is about a half hour drive from where we live in south Florida. When you pass through the gate, there is a signboard with a few notices and map of the area, and that's about all. A narrow, crushed-shell road leads off into the brush for a seven-and-a-half-mile drive to a pond and picnic area. I think Lesley's reaction was similar to my first visit. At first, there is an eager anticipation for what you might see—after all, it is a wildlife management area, there must be a lot of wildlife. Then, you are struck with all the brush and scrub pine surrounding you, and seemingly few areas that would appear suited to grazing cattle. We have a lot of cattle here, and everywhere you drive there are miles of flat, open grazing land, dotted with a few palms or a distant copse of oak trees. The open land reminds us both of Texas, except that it is greener. But, here in the Du Puis Management Area, you can only see a few yards in any direction—not miles. It starts to feel slightly foreboding. No sign of life anywhere, just a dusty path leading onward through the brush.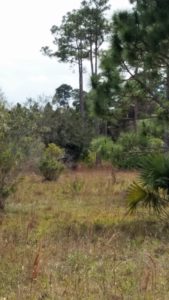 The road has become heavily washboarded since my earlier visits on my motorcycle. Luckily, we are in my pickup, although I can't help but hope nothing falls apart from the constant vibration. On my motorcycle, I hoped I wouldn't hit a soft spot in the road where dust had accumulated heavily in a deep rut. Motorcycles can easily dig out in that situation, and you can dump the bike before you realize what's happening. If you do, it isn't easy getting a bike weighing nearly a half ton back upright. And—you're on your own.
Actually, there are other visitors. We encountered one or two other vehicles each way, but after a cautious passing with both vehicles pulling partway off the road to allow passage, the sound and sight of others is swallowed up by the grass and brush and quiet. You're alone again. There are the droppings left by someone's horse, bicycle tire tracks in the dust on the roadway, a spot where a hog has rooted in the dirt off to the side of the road, or a narrow trail leading off through the tall grass into the brush. It's tempting to get out and check for tracks to determine whether the trail belongs to deer, hogs, or something else.
By the time we reached the picnic area we are already hungry for the lunch we brought with us, but first we have to walk around and explore. Several Tiki huts have been erected to shade picnic tables. We have our choice of any of them. No one else is around. A pier has been built out into the pond, and the sign at the entrance told us fishing is allowed. We walk out onto the pier, trying to see down through the murky water for any fish, but don't see any. A couple of large alligators lie on opposite banks of the pond, watching us, or ignoring us, I'm not sure which. A green heron stands statuesque on the bank between the two gators. Some other bird makes an unfamiliar call in the distance. Time to pick a table and have lunch.
We brought sandwiches and a thermos of tea and a bag of chips. Everything seems especially delicious. The air is pleasant, the quiet relaxing. After a while, I notice a broken piece of chip has fallen on the ground, and ants from a nearby mound swarm over it. Then, unbelievably it starts to move. Two or three dozen tiny ants have combined to haul the prize off to their mound. Even when they reach intervening tufts and tangles of grass and dried leaves and twigs, they are undeterred. Moving an object which in comparison to our size would be like half a football field, they soldier on—and finally reach their mound. For a while, it seemed they might be stymied, but eventually they managed to chew a large chunk off and maneuver it into the hole leading down into their nest. A truly fascinating event in the wild,  and just a few feet from our Tiki hut and picnic table.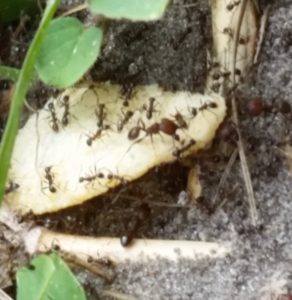 The drive out seems shorter, as is often the case. Still no sightings of deer or wild pigs, but that doesn't matter. I've seen their sign, and know they are in the area. As I watched the road unfold through the pine woods and brush before us, I became aware that the earlier foreboding we felt had long since vanished. In its place, for me, there's a sense of peace and contentment I find difficult to leave, except for the part about the rutted roadway. I consider the possibility the area might have reminded me of the hill country where I grew up in California. Both areas are hot and dry, covered in dried grasses and brittle scrub brush, and accented with gnarley pines. But it isn't that. It's the wildness. The comforting sense of solitude—being in a land filled with life and beauty, but not developed by man.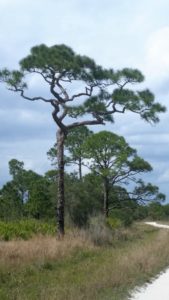 I have an explanation for that earlier foreboding as well. I've felt it before, when I've spent too long submerged in human affairs and man-made development. It's as though civilization, with all the claptrap of everyday existence, is threatened by this venture into the wild and real. Once the transformation is complete, the experience becomes restorative, and one can feel rested and at-home in the land that so many of us so seldom get to see. The Du Puy Wildlife Management Area was once a working, south Florida cattle ranch. Its preservation allows a glimpse into the past and presents the land as early cowboys saw it, and the way it was before them. I look forward to another visit.
I'm sure this is why my series protagonist, Bobby Navarro, craves an open road, experienced from the back of his motorcycle. You can see, and sense, and feel and smell the land as it stretches away into the distance. It is restorative. It is where he can feel most at home. And, I understand that.