I had hoped to finish the rough draft of my current novel by Christmas, but I told myself and others my goal was to finish by New Years, because you never know what might pop up to get in the way. Happily, I have finished the rough draft. It's a great feeling. Of course, last time I finished the rough draft of a manuscript, I ended up completely rewriting the whole thing. I had lost my voice. I had been reading Robert Parker, one of my favorites, and started sounding like a cross between Parker and me. I don't think that will be a problem this time, but it's always nerve-wracking to await someone's response to what you have written. Of course, until then, I have a lot of work to do editing and tuning the present manuscript. Nevertheless, I'm excited to be on track for getting this Bobby Navarro sequel out this coming spring/summer. And, for a few days, it's time to celebrate.
Of course, when the draft was finished the other day, I enjoyed glass of scotch. That was the official celebration. One of the things I'm aware of when I come to the end of a manuscript is that I feel eager to finish it, but reluctant to let go of the characters and the story. Afterwards, there is a mixture of feeling relief, accomplishment, and loss. The nice thing about writing a series, is that I will be able to work with the main character again. Last night, I had ideas running through my head about another Bobby Navarro story when I was supposed to be getting to sleep, but that's not what I meant about looking forward to working with my protagonist again.
I remember a Kathy Bates movie, Misery, when a writer celebrated the end of his manuscript with a single cigarette and a glass of wine. Of course, if you saw the movie, you know what came next. I wouldn't want to have been in his shoes.
Now, I am taking a little time to let the manuscript cool off before beginning the editing process. In the meantime, I have the chance to ride my own motorcycle, play a round of golf, and maybe do some hiking. That's the advantage of finishing a draft while in Florida. Yesterday, I took a ride down an unfamiliar road that turned out to have a wildlife management area, Du Puis Management Area along one side of the roadway. The area offers hiking, biking, fishing, hunting, and even camping. It's not far away from where we are located, so I'm looking forward to visiting there again.
Over the past months, I have enjoyed hearing from some of you who have visited my blog, and I look forward to bringing more news of Bobby's travels and adventures in the coming year. Thank you for your support.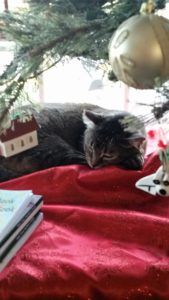 I wish you all happy holidays, and a great year ahead.
Glenn Nilson